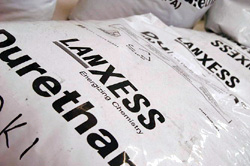 Durethan ®
Durethan
®
is the trade name for our range of engineering thermoplastics based on polyamide 6 and polyamide 66.
Polyamides are partially crystalline plastics which offer an ideal combination of properties especially for technical applications.
They combine a high mechanical strength and stiffness with good electrical insulation properties, a high resistance to heat and chemicals, low friction, good emergency running properties, wear resistance and the attenuation of noise and vibration, plus outstanding ease of processing.
Depending on the particular material and grade concerned, polyamides absorb moisture from the environment on a reversible basis. This has the same effect as a plasticizer, i.e. the tensile strain at break and toughness increase while the strength and stiffness are reduced.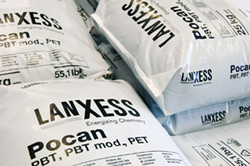 Pocan ®
Pocan®
is the trade name for our polybutylene terephthalate (PBT) and its blends.
Pocan® offers a high heat resistance, strength and hardness, as well as excellent slip properties and high abrasion resistance, good resistance to chemicals, low susceptibility to stress cracking and low moisture absorption.
Apart from the injection molding grades, there are also Pocan grades for the extrusion of semi-finished products, foils and cable sheathing, as well as non-reinforced products, and glass-fiber reinforced, glass-sphere, or mineral-filled products. Flame retardant, elastomer-modified and food-approved grades are similarly available, as are blends with ASA and PC.