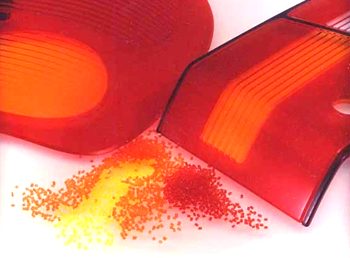 Acrypet
™
ACRYPET
™
is the registered mark of methacrylic resin of Mitsubishi Rayon Co., Ltd., comprehensive manufacturer of methacrylic resin.
Methacrylic resin has the top grade of transparency among plastic and various excellent characteristics such as weather resistance, chemical resistance, good hardness, and beautiful appearance. Such the excellent characteristics allow to offer the wide range of application fields such as automobile, building materials, electric appliance, optical product, and also application for every phase of daily life. This resin is a high-grade material so called 'Queen of Plastic'.

Diapolyacrylate Co., Ltd. (DIAP.) is a manufacturer of Acrylic resins for molding and extrusion usage. The Technology originates in a parent company, Mitsubishi Rayon.
Mitsubishi Rayon Co., Ltd. has the largest market shares both of Acrylic monomers and polymers in Asia, and it has established manufacturing bases from upstream to downstream in Thailand, including monomers and coating resins.

Feature and typical use of ACRYPET™

1. High transparency and excellent optical characteristics
Transparency of ACRYPET™ is incomparable high level and the best for optical use. In addition, molded product has beautiful luster and offers full flexibility of coloring.

2. Good weather resistance
Whether resistance of ACRYPET™ is classified to the top level of plastic property. Optical and mechanical characteristics of molded product hardly degrade at all even though being exposed to the sunbeam and weather.

3. Good abrasion resistance
Surface of molded ACRYPET™ product is impervious that keeps beautiful luster mostly forever.

4. Lightweight and toughness
Weight is half of inorganic glass.
5. Good chemical resistance
Chemical resistance of ACRYPET™ is effect for the most chemicals found in our usual circumstance.

6. Ecologically friendly resin

ACRYPET™ can be used for food container and so on without any fear of safety. In addition, the recycle-rate is so high, and various recycling methods, i.e., material recycling and chemical recycling, can be applied.